Kayaker attacked By Super aggressive Hammerhead Shark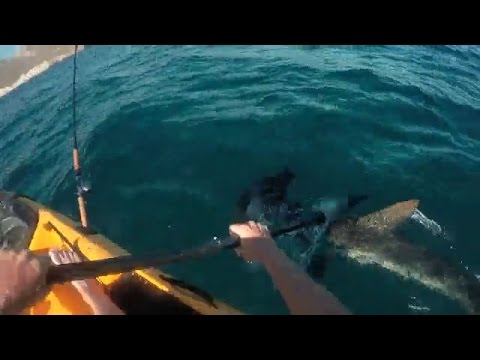 |
I didn't think that hammerhead sharks were that aggressive .. of course until now.
Watch Mark McCraken, a kayak fisherman off the coast of California fend of a really aggressive hammerhead shark with his paddle. Mark was fishing for bonito about a half mile off Gaviota State Beach last Saturday 9/19.
The shark repeatedly tried to ram Mark's kayak, possibly causing him to capsize. Each time the shark approached his kayak Mark would hit it with his paddle, but the shark continued to circle and make repeated attacks for about 15 minutes.
Once mark decided to head back to shore, the shark followed him all the way back until he was in 3 feet of water and even remained at the shore line after mark got out of his kayak.
Mark was able to capture much of the 15 minute encounter the following YouTube video, watch it  below.
Watch Mark fend off a super aggressive hammerhead shark in the video below.
Related Posts:
Kayaking Near You ( by State):
Alabama| Alaska| Arizona| Arkansas| California| Colorado| Connecticut| Delaware| Florida| Georgia| Hawaii| Idaho| Illinois| Indiana| Iowa| Kansas| Kentucky| Louisiana| Maine| Massachusetts| Michigan| Minnesota| Mississippi| Missouri| Montana| Nebraska| Nevada| New-Hampshire| New-Jersey| New-York| North-Carolina| North-Dakota| Ohio| Oklahoma| Oregon| Pennsylvania| Rhode-Island| South-Carolina| South-Dakota| Tennessee| Texas| Utah| Vermont| Virginia| Washington| West-Virginia| Wisconsin| Wyoming|
&nbsp