Sea Kayaking Disaster Trashed a Nordkapp (Video)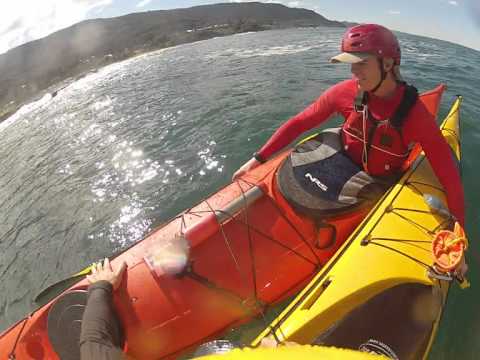 |
There are good kayaking days out and then there are not so good kayaking days out.
For this sea kayaker, the day appeared to be perfect for heading out to sea.  However, that is just the beginning of the story.
Firstly to start out , there was a little bit of trepidation about heading out because although the waves were small there was only about an 11 second wave period.  This short wave period makes it more difficult to navigate out through the rocky shore.  As luck would have it, this theory proved out all too well for this kayaker who trashed his Nordkapp  kayak when he attempted to head out to sea.
Watch his perilous trip in the video clip below as a recap of what happened and the final condition of his Nordkapp.
Kayaking Near You ( by State):
Alabama| Alaska| Arizona| Arkansas| California| Colorado| Connecticut| Delaware| Florida| Georgia| Hawaii| Idaho| Illinois| Indiana| Iowa| Kansas| Kentucky| Louisiana| Maine| Massachusetts| Michigan| Minnesota| Mississippi| Missouri| Montana| Nebraska| Nevada| New-Hampshire| New-Jersey| New-York| North-Carolina| North-Dakota| Ohio| Oklahoma| Oregon| Pennsylvania| Rhode-Island| South-Carolina| South-Dakota| Tennessee| Texas| Utah| Vermont| Virginia| Washington| West-Virginia| Wisconsin| Wyoming|
&nbsp